Servant Networking: Serve, Don't Network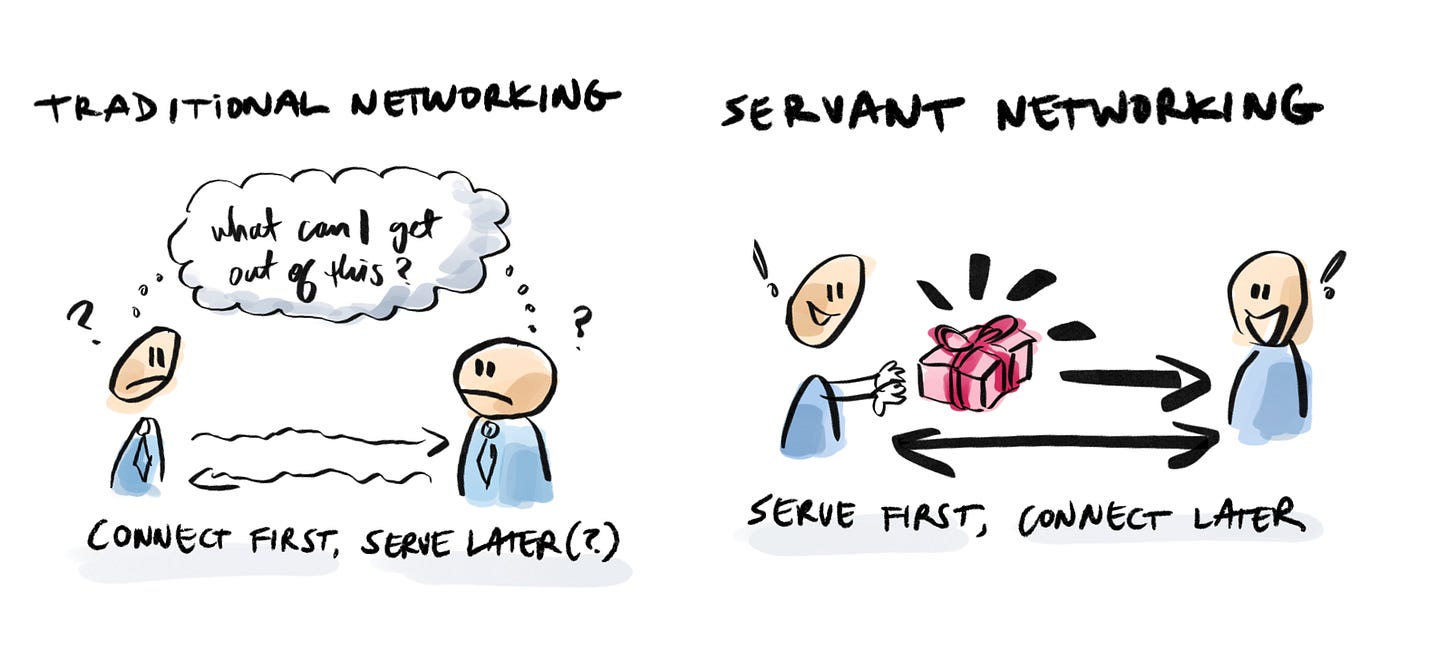 When Kobe Bryant was asked for his best advice on leadership, and his answer was simple: serve, don't lead.
This is the essence of servant leadership – a philosophy where the main goal of the leader is to lead by serving rather than lead by authority. Similarly, we should apply this idea to networking to establish servant networking – serve, don't network.
I've personally created more meaningful connections in the past three months than I have any calendar year of my career this way (more details in a separate post).
Traditional vs. servant networking
In traditional networking, the model goes something like: connect first, serve later. Find out what "value" you can extract from the newly formed relationship. This is why many view networking as exploitative and inauthentic because there is an expectation of delayed value. Someday, somewhere, somehow, I will get value from this relationship. Yuck. No wonder we hate networking.
When I worked on the Network Growth team at LinkedIn (invitations, connection request products), we saw a lot of understandably frustrated professionals who wanted to connect with other professionals but didn't know how or what to say.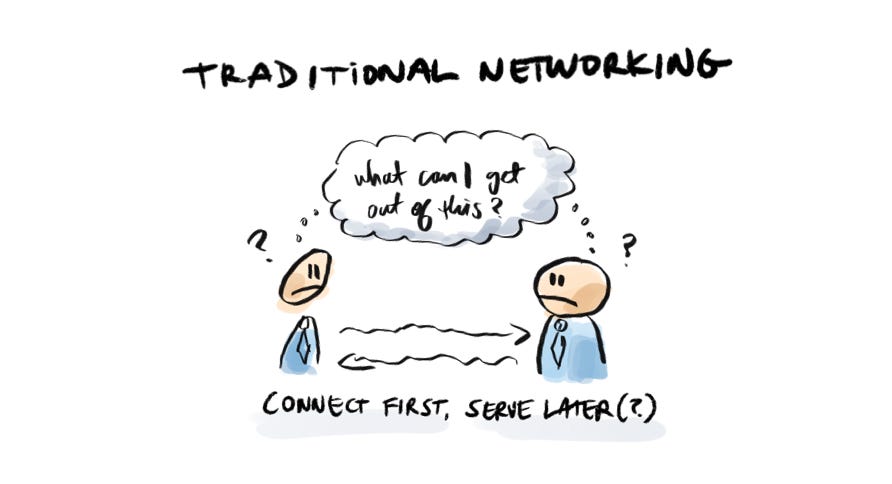 Servant networking on the other hand, brings the service and value up front first, with the key characteristic of no expected reciprocity. This is true service, and this model requires a a new set of competencies: a giving mindset, creativity and proactivity in identifying and delivering the contribution, and no expectations.
Let's dig into the principles and steps of servant networking: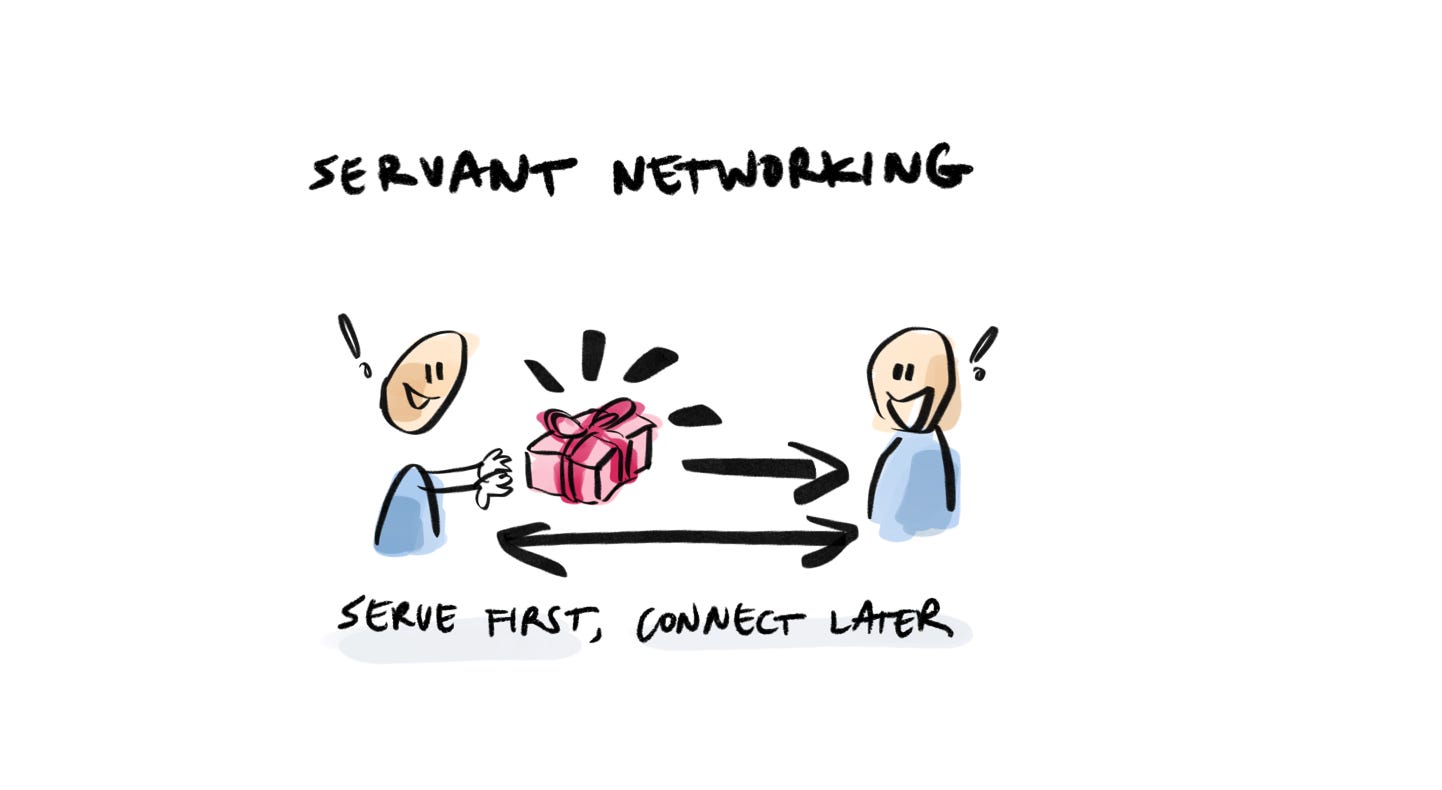 Principles
By giving, you've already gained – by contributing, you've already personally gained (1) a mindset of giving (2) clarity of thought (through the act of writing a cold email, creating content for someone, etc), and (3) creativity – by identifying the opportunity, you're honing your creative skills.

Expect nothing in return – you've already gained by giving, and that is abundant enough. This is key, you should not be expecting anything in return.

Even if you genuinely don't expect anything in return, 90% of the time you WILL receive abundantly in return – people are appreciative, grateful, and will want to do connect with you or return the favor. People want to connect with genuinely generous people.

Table stakes – you must be proactive, action oriented, and creative to identify opportunities.
Steps: Intent, Contribution, Delivery, Outcome
Every new potential connection will comprise of these steps –
Intent – What can I give, how can I serve, how can I contribute? Go into every interaction with this mindset and the opportunities will present themselves.

Contribution – What is the deliverable, how will I add value? Requires thoughtfulness and creativity. Can be a cold email, an article summary/tweet thread of their work, a proposed design (examples later).

Delivery – how will I send my contribution? Email, tweet thread, article, etc.

Outcome – expect nothing as the outcome. Once you've given, it's done – but as discussed before, you will be surprised at what inevitably comes your way.
By giving, you've already gained: a mindset of giving, clarity of thought, and creativity.
What can I contribute? Some examples
Let's say you've nailed the intent part – what should you contribute and how should you deliver your contribution? The most exciting thing about this is that there is an unlimited amount of ways you can go about this, but here are some ideas:
Serve by offering ideas and a service that they need

Serve by asking thoughtful, conversation sparking questions (on threads, forums etc)

Serve by creating content for an individual/community

Serve by creating design work for an individual/community

the list goes on..
Here are some of my favorite examples, as well as some from my personal experience:
Serve by offering ideas
Serve by creating a design for someone you admire
Serve by asking thoughtful questions
Serve by creating resources for the community
Serve by creating remixed content
Serve by offering to help host community meet ups, provide trainings, provide conversations based on your expertise
Not pictured, but I've connected with so many new fantastic people in my industry through this method via Slack, Zoom, DMs, particularly because most things are online now.
Servant networking is well suited for a post-COVID world
Here's the kicker – servant networking is well suited for a COVID and post-COVID world where much of what we do will likely have an online component. As more of our traditional experiences are shifted online, the opportunities for servant networking increase:
Everyone is reachable – more-so than ever, people are online and welcome connections. Examples: cold emails, twitter DMs.

Huge demand for networking – traditional events and conferences are gone, folks are looking for new ways to connect.
Through these mechanisms, the past three months have been a networking renaissance for me that has connected me to leaders in my field (product growth), linked me with creatives from around the world, helped me build an audience, and brought me meaningful communities.
Servant networking teaches you creativity, generosity, patience, gratitude – whats not to love? Even if you end up meeting zero people, you win for yourself. If you approach the world with a "what can I give? How can I add? How can I contribute" abundance mentality, doors will open up.
Echoing the words of the late Kobe Bryant –
Serve, don't lead.
Serve, don't network.
Related concepts:
Follow up topics:
Twoom: Twitter 2 Zoom. perfect for servant networking: seamless publishing, remix capabilities via retweeting, and DM/calendly flow.

Contributing – a key component in community building.

Best career advice I got: information asymmetries – strategies for lifting the veil on the blindspots unique to your current role and industry.